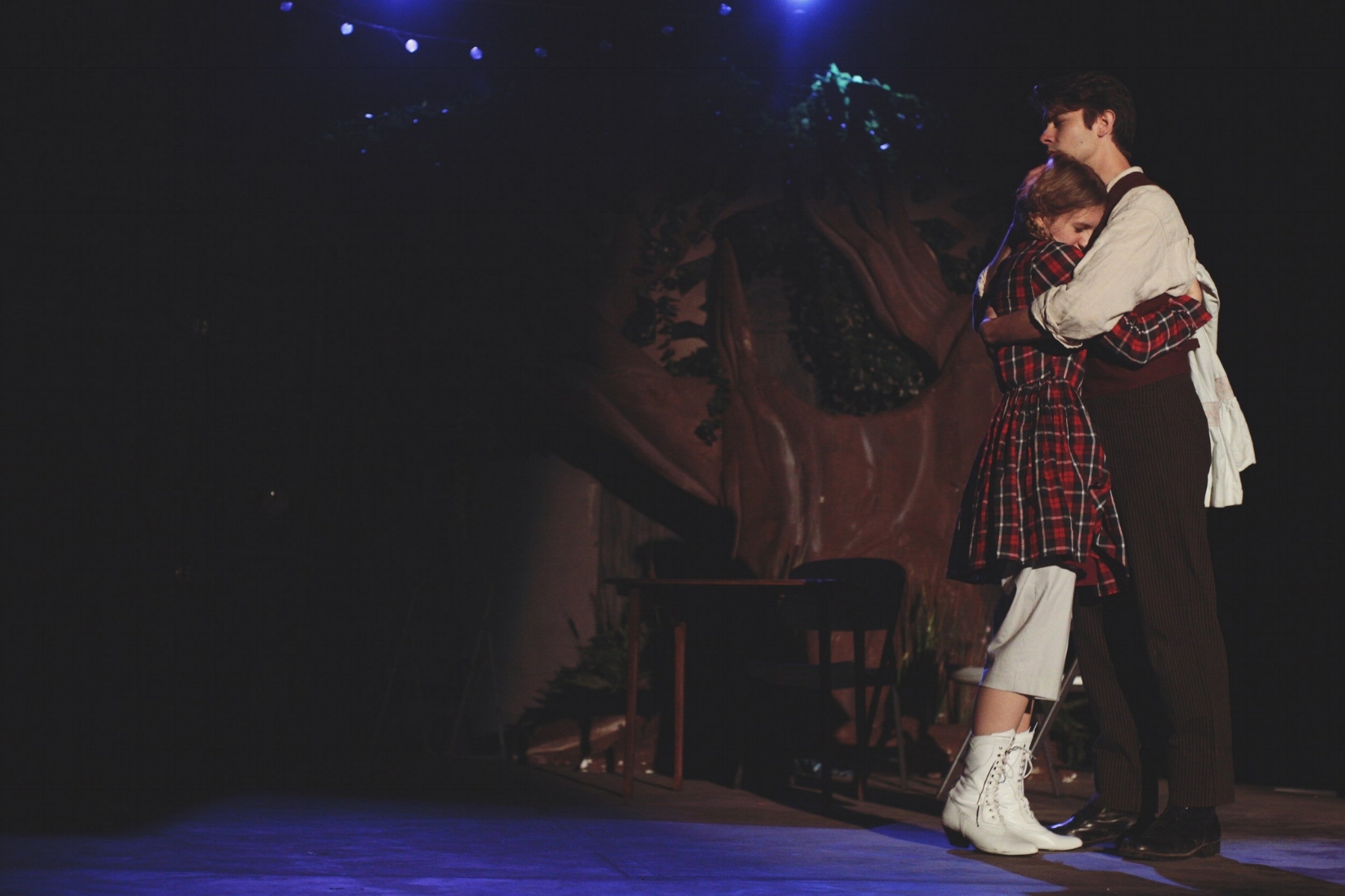 Tuck Everlasting, 2018. Photo: Emily Allen Photography
Come take flight with us.
Based out of Fayetteville, Arkansas we are an arts organization focused on musical theatre. We reserve the right to do other types of theatre as well...we just REALLY like musical theatre.
This is theatre for everyone.
FLIGHTS
(upcoming events)
Don't despair, there is theatre in the air.
2020 announcement is coming at ya like a runaway plane.
education. Let's learn.
First timers or seasoned veterans welcome. Classes are usually held at Drake Field Airport, 4500 S. School Avenue, Fayetteville, AR 72701
THANKS FOR A GREAT SEMESTER OF LEARNING AND CREATING! FALL CLASSES COMING SOON!

KIDSTAGE: NINJA'S, The Musical! - Open to ages 8-14
ENROLLMENT INFO, Tuition $125
CLASS RUNS JAN. 10 - FEB. 23, TUES + THUR, 4:15-5:30
Come be a part of the process of mounting a brand new, original kids musical! This is a class that is open to all youth ages 8-14. Students will meet twice a week and will culminate in a public production of "NINJAS". You will learn tools and techniques to create theatre together while helping shape a new show. You will give input and feedback and help give "NINJAS" the KIDSTAGE stamp of approval. Let's be real... who doesn't want to be in a musical about NINJA'S?! Sorry grownups, this one is for the kids. Show is scheduled to open February 22nd. Classes meet Tuesdays and Thursdays from 4:15-5:30. Instructor/Director: Missy Gipson. Location: Drake Field Airport.
AUDRA BOCKSNICK: MA, Theatre, NYU. She spent time in London and Dublin studying Educational Theatre. She has served as Chapter Director of the Arkansas Chapter of the International Thespian Society and was head of the Alma High School Theatre Department for 8 years. She also has been to Disney World over 10 times.
MISSY GIPSON: BA, Theatre, Lyon College. She played the role of Mary Shelley in the Off- Broadway production of Frankenstein: The Rock Musical at LaMaMa ETC, among various other roles in a cornucopia of shows. She is also the Executive Director of the Young Actors Guild of Fort Smith where she won National Youth Arts Award for her direction of Les Miserables. She is trying to break her addiction to Dr. Pepper.
ERIN HAGAR: BA, Theatre, University of the Ozarks. She recently was seen as Rosie in Pilot Arts production of Mamma Mia.. She served as costume designer for Stagedoor Manor Performing Arts Center, NY, as well as directing for Arts Live Theatre and the Young Actors Guild. She has a 4 year old named Sullivan and has been known to burst into random acts of singing.
CLASS INQUIRY/REGISTRATION FORM: (
Summer ☀️....we're coming for you!💥 Our education program is enrolling for our mini-camp next week! We can't wait t…

https://t.co/dYA0xWrNIJ

Raise your hand if you've ever had that awkward gym class moment...🙋‍♀️ Come see us live that FREAKY FRIDAY life to…

https://t.co/VenKVDVoJB

We will be unveiling the first part of Season 2019 this week starting with our first project ————> || SEASON 2019 k…

https://t.co/LSFIeJkRY0
Support Pilot Arts
Donations provide necessary support for all Pilot Arts productions and educational program expenses throughout the year. Ticket sales cover less than 60% of the cost of running our theatre company. Outside support from individuals, corporations, and foundations is absolutely necessary.

Every gift received is important to the future of Pilot Arts and to the actors, designers, directors, and technical staff of each production. All donations of $50 or more receive a "shout-out" in the playbill of each production for one calendar year.
Every Gift Matters
Each gift of $50-$250 supports set pieces and props
Each gift of $250-$500 funds a local orchestra musician
Each gift of $500-$1000 provides costumes for a performance
Each gift of $100-$1500 helps design and construct the set of a production
Each gift of $1500-$5000 invests in technical and production equipment for long-term use.
Corporate Sponsorship
Each Pilot Arts performance allows for funding opportunities for area businesses and organizations to support our mission. An alliance with Pilot Arts connects your business with over 5,000 NWA residents annually - a diverse and well educated audience - individuals who are committed to supporting those who support the arts.

Corporate Sponsors enjoy unique opportunities for business branding, client exposure, and community engagement while demonstrating a strong commitment to civic leadership. Opportunities begin at $1,000. Contact Missy for more information at 479.879.1034
Aviator's Circle
help the arts take flight
Our annual giving circle is designed to recognize our donors (individuals and businesses) who commit to support Pilot Arts on an annual basis of $500 or more. Visit PilotArts.com for more information on how you can be a part of the Aviator's Circle and support Pilot Art's overall mission.