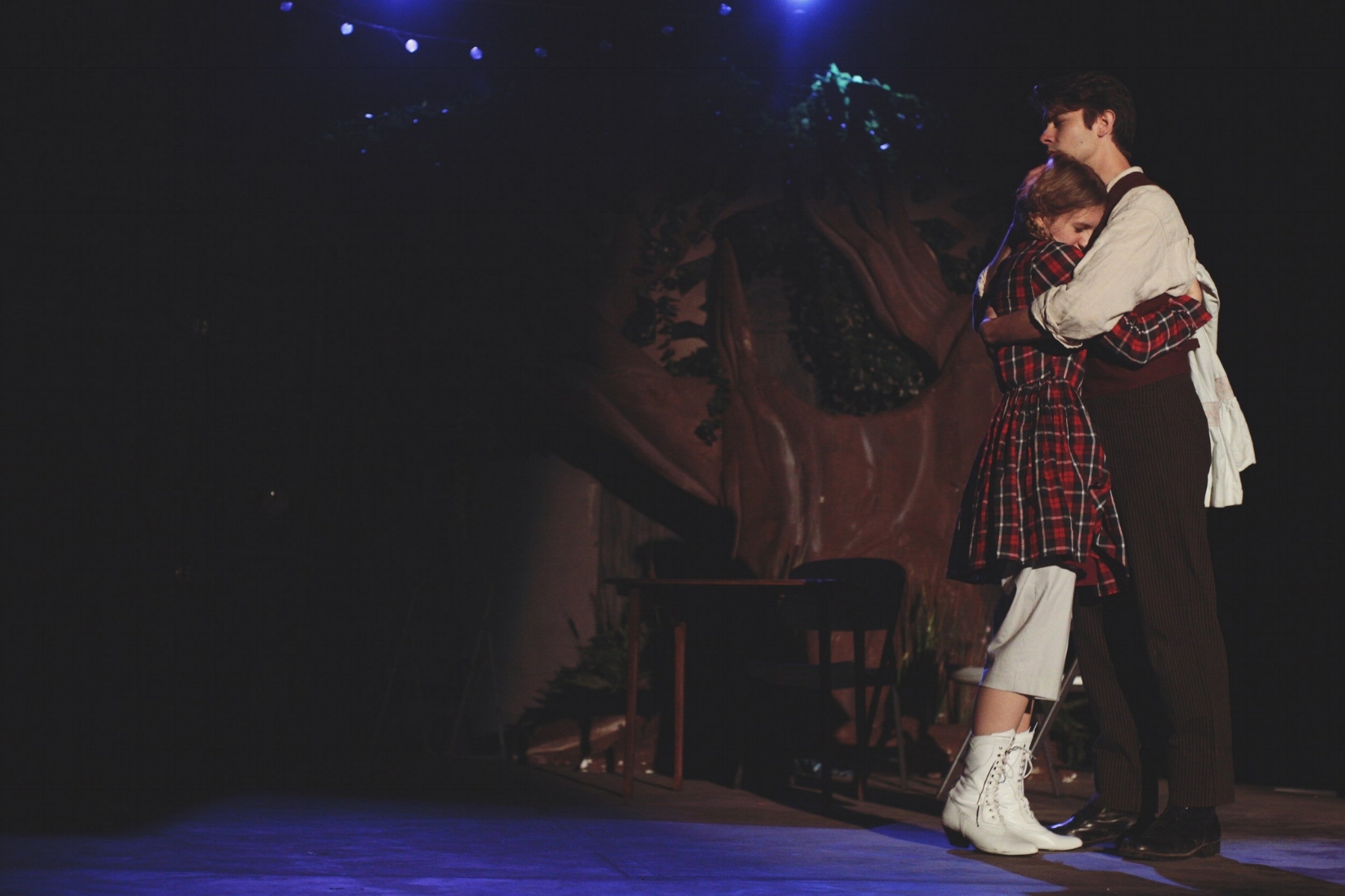 Tuck Everlasting, 2018. Photo: Emily Allen Photography
Come take flight with us.
Based out of Fayetteville, Arkansas we are an arts organization focused on musical theatre. We reserve the right to do other types of theatre as well...we just REALLY like musical theatre.
This is theatre for everyone.
FLIGHTS
(upcoming events)
Little Women, The Musical
Production Dates: NOVEMBER 13-17, 2019
Arkansas Air + Military Museum

AUDITIONS: Open to ages 16 - Adult
SEPTEMBER 15th, 2-5:30 PM
SEPTEMBER 16th, 5:30-8:00 PM
DRAKE FIELD AIRPORT
Address: 4500 S. School Ave, Fayetteville, AR 72701

Casting "Little Women," the musical based on the novel by Louisa May Alcott, adapted by Allan Knee and featuring a score by Jason Howland and Mindi Dickstein. This timeless, captivating story is brought to life in this glorious musical filled with personal discovery, heartache, hope, and everlasting love.

Audition Preparation:
1. A recent photo is appreciated, not required.
2. Select one of the attached monologues to read at auditions. You will be considered for all roles, not just the monologue you perform. You don't need to be memorized, but can if preferred. These will also be available at auditions for those just finding out about auditions.
LITTLE WOMEN - AUDITION MONOLOGUES (Male/Female)
3. Please bring a song of your choice to sing. An accompanist will be provided. If you don't have sheet music, a capella is fine.
4. HAVE AS MUCH FUN AS YOU HAD AT THAT 8TH GRADE DANCE BACK IN THE DAY. Okay, have WAY more fun that.
Character breakdown:
Jo March, Female, 18-30
the second-oldest March sister, Jo; wants to be a writer; based on Louisa May Alcott herself, a passionate young woman; has a temper and a quick tongue, although she works hard to control both; she is a tomboy, and reacts with impatience to the many limitations placed on women and girls; she hates romance in her real life, and wants nothing more than to hold her family together, moderate dancing, strong singer, driving presence of the show; Vocal range: E3 – A5. All Ethnicities
Professor Bhaer, Male, 25-50
a German professor who is quite proper; he is a boarder in Mrs. Kirk's boarding house; he then falls in love with Jo; strong singer; high baritone; Vocal range: G2–F#4. All Ethnicities
Amy March, Female, 18-22
the youngest sister, with a rather pompous manner, and via that, she rides into society; an artist who adores visual beauty and has a weakness for pretty possessions; she is given to pouting, fits of temper, and vanity; but she does attempt to improve herself; she marries Laurie; strong singer, able to hold harmonies; may also play The Troll in the Operatic Tragedy; vocal range: Cb4–Gb5. All Ethnicities.
Meg March, Female, 18-35
the oldest March sister; she yearns for a great life; responsible and kind, Meg mothers her younger sisters; she has a small weakness for luxury and leisure, but the greater part of her is gentle, loving, and morally vigorous; she marries John Brooke; moderate dancing, strong singer, able to hold harmonies; also plays Clarissa in the Operatic Tragedy; Vocal range: A#3–Gb5. All Ethnicities
Beth March, Female, 18-25
the second youngest sister; she is a peacemaker, and always sees the good in everyone; very quiet and very virtuous, and she does nothing but try to please others; she adores music and plays the piano very well; moderate dancing, strong singer, able to hold harmonies; also plays Rodrigo in the Operatic Tragedy; vocal range: A3–G5. All Ethnicities.
Marmee March, Female, 40-55
the strong mother; the moral role model for her girls; she councels them through all of their problems and works hard but happily while her husband is at war; she is the backbone of the March family; strong singer; also plays The Hag in the Operatic Tragedy; vocal range: Eb3–Eb5.
All Ethnicities
Mr. Laurence, Male, 55-70
Laurie's grandfather and the Marches' next-door neighbor; he is a stiff and stern elderly man, but he eventually shows his softer side; also plays The Knight in the Operatic Tragedy; baritone. All Ethnicities
Laurie Laurence, Male, 18-30
the boy-next-door who is the same age as Jo; becomes like a son and brother to the Marches; charming, clever, and has a good heart; he befriends Jo but is rejected when he proposes; he later bonds with Amy; strong singer, tenor; also plays Rodrigo in the Operatic Tragedy; vocal range: Bb2–Bb4. All Ethnicities.
Aunt March, Female, 60-80
a formidable, overbearing matron and the great-aunt of the March sisters; she is very rich and cares greatly about society; although crotchety and difficult, Aunt March loves her nieces and wants the best for them; also plays Mrs. Kirk, the matron of a boarding house in New York City; vocal range: E3–F5. All Ethnicities
Mr. John Brooke, Male, 25-35
Laurie's tutor, a rather stiff man, but capable of showing emotion; poor but virtuous; he marries Meg; strong singer, must be able to hold harmonies, baritone; also plays Braxton in the Operatic Tragedy; Vocal range: C#3–F#4. All Ethnicities
ENSEMBLE — the lifeblood of any show!
Rehearsal and Production Dates & Locations
Rehearsals begin Sept. 26; Rehearsals will take place a few weeknights and late afternoon/evening on Sundays.
Show runs Nov. 13 - 17 (Thurs.-Sat. at 7 p.m.; Sat + Sun. at 2 p.m.) in Fayetteville, AR Theatre: Arkansas Air + Military Museum.
education. Let's learn.
First timers or seasoned veterans welcome. Classes are usually held at Drake Field Airport, 4500 S. School Avenue, Fayetteville, AR 72701

KIDSTAGE: THE MIGHTY, The Tiny Superheroes Musical - Open to ages 7-14
ENROLLMENT INFO, Tuition $125, MONDAYS, 4:00-5:15
CLASS BEGINS SEPT. 30th. Runs 7 weeks through November 18th. We'll also have a tech week Nov. 19-21 that culminates in 2 public performances on November 22nd.
REGISTER HERE!

Come be a part of the process of mounting a brand new, original kids musical! This is a class that is open to all youth ages 7-14. Students will meet once a week and will end with a bang with two public performances of "THE MIGHTY". You will learn tools and techniques to create theatre together while helping shape a new show. You will give input and feedback and help give "THE MIGHTY" the KIDSTAGE stamp of approval. Let's be real... who doesn't want to be in a musical about SUPERHEROES? Sorry grownups, this one is for the kids. Show is scheduled for mid- November. Classes meet Mondays, 4:30-5:30. We will also have a "tech week" the week we open the show. Instructor/Director: Missy Gipson. Location: Drake Field Airport.
AUDRA BOCKSNICK: MA, Theatre, NYU. She spent time in London and Dublin studying Educational Theatre. She has served as Chapter Director of the Arkansas Chapter of the International Thespian Society and was head of the Alma High School Theatre Department for 8 years. She also has been to Disney World over 10 times.
MISSY GIPSON: BA, Theatre, Lyon College. She played the role of Mary Shelley in the Off- Broadway production of Frankenstein: The Rock Musical at LaMaMa ETC, among various other roles in a cornucopia of shows. She is also the Executive Director of the Young Actors Guild of Fort Smith where she won a National Youth Arts Award for her direction of Les Miserables. She is trying to break her addiction to Dr. Pepper.
ERIN HAGAR: BA, Theatre, University of the Ozarks. She recently was seen as Rosie in Pilot Arts production of Mamma Mia.. She served as costume designer for Stagedoor Manor Performing Arts Center, NY, as well as directing for Arts Live Theatre and the Young Actors Guild. She has a 4 year old named Sullivan and has been known to burst into random acts of singing.
CLASS INQUIRY/REGISTRATION FORM:
So what Louisa is saying is ——> get out to auditions tonight! 5:30-8:00 pm, Drake Field Airport. Open to ages 16-…

https://t.co/C1zcw0shaw

Oh, Marmee! Always knowing what to say 👏 || LITTLE WOMEN, The Musical. Auditions coming up this weekend! Info:…

https://t.co/L3AGyFn40f

Season 19/20 || Little Women, The Musical. || This timeless, captivating story is brought to life in this glorious…

https://t.co/6F8pFKm8gR
Support Pilot Arts
Donations provide necessary support for all Pilot Arts productions and educational program expenses throughout the year. Ticket sales cover less than 60% of the cost of running our theatre company. Outside support from individuals, corporations, and foundations is absolutely necessary.

Every gift received is important to the future of Pilot Arts and to the actors, designers, directors, and technical staff of each production. All donations of $50 or more receive a "shout-out" in the playbill of each production for one calendar year.
Every Gift Matters
Each gift of $50-$250 supports set pieces and props
Each gift of $250-$500 funds a local orchestra musician
Each gift of $500-$1000 provides costumes for a performance
Each gift of $100-$1500 helps design and construct the set of a production
Each gift of $1500-$5000 invests in technical and production equipment for long-term use.
Corporate Sponsorship
Each Pilot Arts performance allows for funding opportunities for area businesses and organizations to support our mission. An alliance with Pilot Arts connects your business with over 5,000 NWA residents annually - a diverse and well educated audience - individuals who are committed to supporting those who support the arts.

Corporate Sponsors enjoy unique opportunities for business branding, client exposure, and community engagement while demonstrating a strong commitment to civic leadership. Opportunities begin at $1,000. Contact Missy for more information at 479.879.1034
Aviator's Circle
help the arts take flight
Our annual giving circle is designed to recognize our donors (individuals and businesses) who commit to support Pilot Arts on an annual basis of $500 or more. Visit PilotArts.com for more information on how you can be a part of the Aviator's Circle and support Pilot Art's overall mission.